SBBJ Recruitment 2020. Get Latest Notification for SBBJ Bikaner & Jaipur Career Vacancies in Rajasthan. Find Upcoming Bank Jobs in SBBJ Rajasthan Recruitment 2020. Find Employment Job Alert for SBBJ- State Bank of Bikaner & Jaipur, Rajasthan government. Get Career News for SBBJ Bikaner Jaipur Bank Recruitment 2020-21.
SBBJ Bank merged with State Bank of India on 31 March 2017. So, there wont be any new vacancy from State Bank of Bikaner & Jaipur. Though, you may check the old recruitments from SBBJ for any reference or purpose.
Though, you should check out SBI Recruitment instead for that matter. Visit here for Latest Career and Vacancies in SBI Bank
SBBJ Recruitment 2018 – Part Time Safai karmachari 5 Posts
SBBJ Employment 2018 – Part Time Safai karmachari Posts: State Bank of Bikaner & Jaipur (SBBJ) has provided notice for the recruitment of Part Time Safaikarmachari openings at 05 various branches. Qualified applicants can implement on or before 15 Oct. 2014.
Other information like age limit, qualifications & how to apply are mentioned below..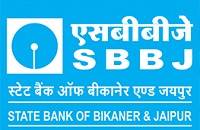 SBBJ Opening Details:
Total No. of Post: 05
Name of the Post: Part Time Safai Karmachari
Name of the Branch:
1. Motipura CTPP: 01 post
2. Kawayee: 01 post
3. Nahargarh: 01 post
4. Seesvaali: 01 post
5. R.C.P.C.Baara: 01 post
Age Limit:
Candidates age should be between 18-26 years for General, 29 years for OBC applicants, 31 years for SC/ST applicants as on 01.01.2014.
Eligibility:
Able to Read Hindi/ Local Language.
How to Apply:
Qualified applicants can apply on a plain paper with full information of Name, Fathers Name, Address, Academic Certification, phone number and other details along with passport size photo, caste certificate, age proof, educational qualification certification, etc, enclosed in envelope super scribed with" Application for the Post of Safaikaramachari" to related Branch on or before 15.10.2014.
Last Date for Submission of Application: 15-10-2014.
For more information like age, qualifications, how to apply & other information simply click following link..
Click here For Employment Advt for SBBJ Recruitment