Main Content
Rajasthan Sarkari Naukri [email protected]: Rajasthan Recruitment Portal for Careers & Employment in Raj State Government
Rajasthan Online Recruitment Portal for 2023
:  Welcome to our Job Portal (rajasthan.20govt.com) for Sarkari Naukri in Rajasthan State! You will get here the
Most recent and up to date
employment notification for latest jobs vacancies in Rajasthan for today! Discover all new Sarkari Naukri opportunities in the State
government departments
for freshers and experienced candidates. You may discover all kinds of jobs vacancies from a small govt department to even
RPSC
or
RSMSSB
level exams. We are a trustworthy job website for any job seekers who are looking for government recruitments from Rajasthan state. You may search here
Rajasthan Sarkari Naukri alert
for entry level to top management level jobs in govt sectors. From agriculture sector to the high technology industry, we provide you all updates at a single place.
Rajasthan State Recruitment Portal: a Leading Website for Government Jobs in Rajasthan
[Rajasthan Sarkari Naukri Portal » Rajasthan Govt Jobs Recruitment 2023 ]
Read latest employment News for new job requirements in Rajasthan State government. As you may be knowing that that various departments in Rajasthan Government need manpower or human resources to run their organization successfully and uninterrupted. That's why all government departments in Rajasthan state release job notifications or employment advertisements on their official portals, national newspapers(Hindi/English), and Weekly Employment News paper(paper+e-version both). But, a large portion of the job seeking population in the state remain uninformed, the reason being there are hundreds of separate official websites and no one can visit the all. That's where we play an important role in collecting and presenting all Sarkari Naukri Rojgar samachar at a single place like this website!
Rajasthan Recruitment Portal » Employment News 2023 for Sarkari Naukri in Rajasthan State
Rajasthan Govt Recruitment Notification 2023: Apply to Suitable Naukri of your Choice!
We publish all kinds of employment notifications for Sarkari Naukri opportunities in the state for freshers and experienced candidates(male/female job applicants).
Rajasthan Government Job Notifications 2023 – Apply Online/Offline for any Sarkari Naukri Recruitment in Rajasthan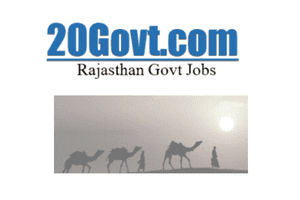 Every person has different capabilities, skill sets, educational qualifications, and work exposure. So, we keep in mind the factor and hence publish all types of government recruitments on our job portal to be of all help to our beloved Sarkari Naukri lovers from Rajasthan! And, if you are also interested in central government jobs along with this, then you must check out 20govt.com for all level of central govt recruitments in India. On our portal (https://rajasthan.20govt.com/) for Rajasthan Govt Jobs, you will find every details related to a recruitment, such as job notification, application form, PDF file to view or download for free, last date to apply, and relevant links to the main recruitment page. You can search jobs by position in Rajasthan, for e.g. find new vacancies in Raj for
Driver
,
Staff Nurse
vacancy,
DEO
jobs,
lab technician
, etc. Visit here to
view all jobs by position
in Rajasthan. At rajasthan.20govt.com you would find recruitments divided into two segments: Rajasthan State
Govt Departments
and Rajasthan
Central Govt Departments
.
---
Rajasthan Govt Job Portal for Rojgar Samachar 2023 for Naukri in Rajasthan
Search here various kinds of Sarkari Jobs in Rajasthan State for the year 2023 & 2023. Stay ahead with the
latest Govt Job Updates
from rajasthan.20govt.com. We are one of the most progressive and comprehensive sites for searching new recruitments in Rajasthan government. Apply Online or go for Direct Walkin Interview Govt Jobs in Rajasthan for 5th, 8th, Secondary pass, 10th class,
12th pass
, Graduate, PG, Phd, Bachelor, Diploma/ Degree Holders. You will find Sarkari Naukri News for 
Sarkari Army Jobs Rajasthan
, Raj Police, 
RPSC
, ECHS,
RSMSSB
,
High Court
, NRHM/NHM, ESIC, Universities/Colleges, Hospitals, Health Medical, MCD,
PWD
,
Bank Recruitment
, Sarkari Offices,
Walkin Interview
,
RSGSM
,
AIIMS Jodhpur
,
DMRC Jodhpur
,
BITS Pilani
,
IIT Jodhpur
,
NIA Jaipur
,
etc.
---
Rajasthan Rojgar News Portal for Sarkari Naukri in Rajasthan
Jobs in Rajasthan State Departments | Upcoming Recruitment Alert for 10th-12th Pass / Graduate/Diploma-Degree Holders
Rajasthan Recruitment Portal for latest Sarkari Naukri in Rajasthan for 2023
Rajasthan Employment Jobs News for Latest Govt Recruitments 2023-2023 in Rajasthan State. Get Recruitment Notification and advertisement Alerts for ALL Government Vacancies in Rajasthan for 10th, 12th, Graduate, Medical, engineering, Finance, Commerce, Science, Arts in various departments according to educational qualifications. Apply Online for Rajasthan State Government Jobs for Freshers and Experienced Candidates. Thank you for Visiting our 
Rajasthan Govt Job Portal
!. You may find here several kinds of Govt jobs and walkin interview details in Rajasthan state of India. The site is updated on daily basis to give you latest news on the Sarkari Job Vacancy in your state Government departments.
---
A Leading Portal for Searching District wise jobs in the state government of Rajasthan for 2023
Get employment notifications for Sarkari Naukri  for the following Districts in Rajasthan Government: Ajmer, Alwar, Banswara, Baran, Barmer, Bharatpur, Bhilwara, Bikaner, Bundi, Chittorgarh, Churu, Dausa, Dholpur, Dungarpur, Hanumangarh, Jaipur, Jaisalmer, Jalore, Jhalawar, Jhunjhunu, Jodhpur, Karauli, Kota, Nagore, Pali, Pratapgarh, Rajsamand, Sikar, Sirohi, Sri Ganganagar, Sawai Madhopur, Tonk, Udaipur. Keep visiting our website to find always new job vacancies in and around Rajasthan state!
Rajasthan Job Portal for Latest and Upcoming Employment News
We are a leading job portal in Rajasthan state for latest employment News from govt sectors. Visit us regularly for new jobs in Rajasthan at https://rajasthan.20govt.com. We started publishing daily recruitment News on our website in the year 2014. Since then we have been actively providing daily and weekly Employment News for Rajasthan Sarkari Naukri.
Upcoming Sarkari Employment News for Rajasthan State
Find or search Upcoming Sarkari Naukri in various Government Departments in Rajasthan state and its districts. Search Rajasthan Govt Job
Vacancy according to educational qualification
and skills. Visit here to get Latest Upcoming Sarkari Naukri News for various
Jobs by Post
in Rajasthan.
Search for Rajasthan Government Jobs 2023