Rajasthan REET Application Form 2018
---
We have great news for candidates who want to get a government job in teaching field that Rajasthan Public Service Commission is going to conduct a exam called Recruitment Cum Eligibility Exam  for Teachers (REET). After this exam candidate will be  eligible to apply for to upcoming recruitment near about 15000 skilled and  eligible candidates of 3rd grade teacher post. So candidates can apply for  Rajasthan REET Application Form 2017 through official website of RPSC i.e.  www.edcuation.rajasthan.gov.in . you  can get more details about Dates and eligibility criteria in below.
RPSE REET 2017 Details: –
Test Name: – Recruitment cum Eligibility Exam for Teachers.
Organization Name: – Board of Secondary Education, Rajasthan.
Number of Vacancies: – About 15000.
REET Exam will be organise by Secondary Education Board of Rajasthan. Students  who are eligible according to above given Eligibility criteria they can apply  for REET 2016 Exam by online mode. You can apply for REET Online application  form by visit its website www.education.rajasthan.gov.in/reet2015. For you can also  submit your application form by E-Mitra. where you have to pay 20 rupees for  Submission of application from. or you can submit your application by official  website after get application Fee submission Receipt Number (E- Mitra Fee Token Number). 
Cost of Application:
Candidates will be need to pay application fee via E-Mitra  KIOSK Center. You have to pay 10/- Extra for get your application Fee token from  E- Mitra Center. Application Fee Details are followings:
• For Primary Level or Secondary level Exam (Only One): 400/-
• For Primary and Secondary Level Exam (For Both Exam): 600/-
Note:- BSER rejected all application form filled for REET 2013 exam. but  candidate who registered for REET 2013 they don't have need to submit application fee again if their date will be found in the board data base. Candidate's who's date exist in Board Database they will get their token number  on their Mobile and Email Id Registered for Application.
Eligibility Criteria For Qualify REET Exam:
Candidate must have to score 60% marks to Qualify REET Exam. Candidates belongs to ST Tribal Cast from Scheduled Area need to score 36%  marks to qualify the REET Exam.
REET 2017 Exam Certificate will Valid Till:
Candidates who will qualify exam they will get certificate from REET office.  REET Exam Qualify certificate will be Valid for 3 years.
REET Results:
Candidates will be known about their exam result from our site. We will  update here as it declared by board.
REET Application Form 2017: –
Rajasthan Public Service Commission will release recruitment notification for 3rd grade teachers. After that candidates will able to fill Rajasthan REET Application Forms.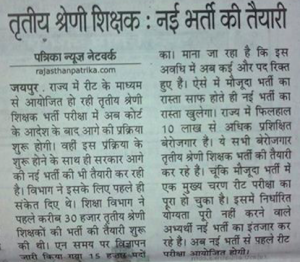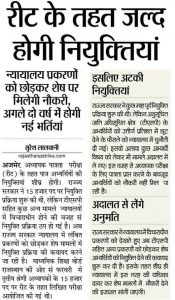 Stay tune with us for get more details about REET Exam 2017, Exam Dates, Online  Application Form, Notification, Exam Notice, Admit card, Result and All other  latest Exam updates.